When to use prepositions IN – ON – AT – Help2Say
See on Scoop.it – ELT Resources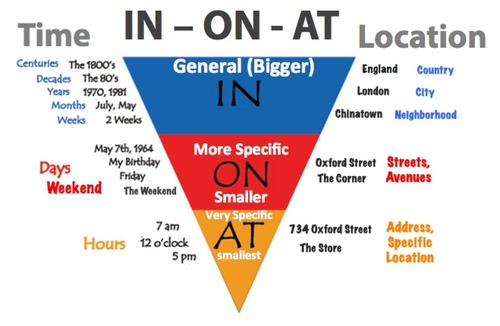 Please share some simple rules of using prepositions IN – ON – AT.
See on www.help2say.com
Post navigation
Search in this blog
Error: Twitter did not respond. Please wait a few minutes and refresh this page.
Все содержание этого блога является собственностью его зарегистрированных авторов. Мы стараемся и впредь будем стараться уважать авторские права других людей и внесем изменение в содержание если ненамеренно вступим в зону прав других авторов.
Мы просим Вас не использовать наши материалы где-либо без предварительного согласования с нами. Мы будем огорчены и даже разочарованы лично в Вас, если Вы не выполните эту просьбу.
В наших материалах периодически появляются ссылки на другие сайты, что не означает то, что мы всегда согласны с содержанием тех сайтов. Не пытайтесь нас также обвинить, что после посещения нашего сайта или тех, на которые мы ссылаемся, Ваш компьютер схватил вирус или еще что похуже.
Простите нас за эти не очень приятные слова - но мы же в Интернете, и осторожность здесь никогда не будет чрезмерной.
All pictures in this blog are reproduced by kind permission of a prodigiously gifted photographer Igor Sivolob